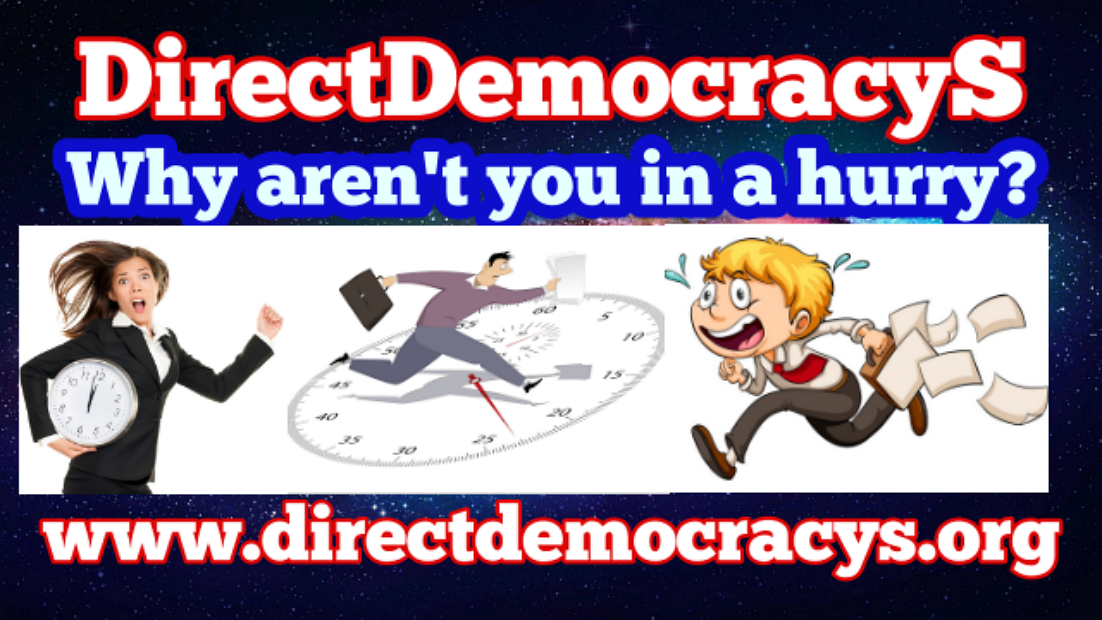 Question: I registered on the website, and I am a login user, or new user. I noticed that everything happens regularly, and exactly as presented in the articles. I just have one question: Why don't we move faster? It seems to me that there is not the right speed in making public to the whole world the best political project in the history of humanity.
Answer: Thank you for joining us, your trust will be reciprocated. Thank you also for the compliments, which, having joined us, we know are sincere. You are not the first, and you will not be the last, to complain about our speed. Your disappointment is understandable in seeing that we are very slow in making our project public, and in actively participating in global, continental, national, state and local political life. Even if you informed yourself before registering, you do not know exactly some of the reasons for this slowness. To many, superficially, from the outside, it almost seems that we are immobile, with rigid rules respected by everyone, and a practically perfect mechanism, but also hesitant, in making ourselves known, and actively participating, in the elections. Anyone who accesses some of our reserved areas is surprised by the enormous work that many people are carrying out in a coordinated way, in thousands of groups, pages and reserved spaces, often invisible from the outside. The fact of seeing only the tip of the iceberg creates for some the false sensation that we are not making an effort.
Some, mistakenly, say that we are afraid of confronting ourselves with other political forces, or that we are afraid of losing the elections.
DirectDemocracyS is the only political organization worldwide, based on direct democracy, which we put into practice internally, allowing total and continuous control over time of all our members over their political representatives. Our political project, our rules, and our mechanism are 99% ready, with just a few tweaks left. If when we were a few hundred people, everything was simpler and faster, now that there are many of us, and we are constantly increasing, making decisions, and above all putting all the right people in the right place, is a little more complicated.
To know who we can trust, and to verify beyond identities, also compliance with all the rules, and the behavior of each person, is very difficult. It takes time, even just to understand the real intentions of anyone who joins us.
Being DirectDemocracyS, an international political force, for obvious reasons, we had to start with the international phase, to then move on to the continental, national, state, and finally local phase. Always starting from the largest geographical areas, to the smallest ones, until we are present in every territory.
We were born to unite people, of all political ideologies, in a politically perfect project, and we are succeeding thanks to calm, attention to every detail, and our way of welcoming anyone who joins us.
For the first 14 years we worked secretly, for the simple reason that we were fragile and easily attacked by those who feared that our innovation would change and above all improve the world. Now we are old enough not to fear anything, we have made all the necessary decisions to prevent and resolve any type of problem effectively and quickly. At the right time, everyone will know us, with a method that will surprise everyone.
Very few people know us, carefully selected, and almost all of them joined us immediately. This gives us hope for when we actively participate in political life.
We are sure that every person, when they have to choose between the old politics, and DirectDemocracyS, which is innovative and alternative, will be able to choose us. Therefore, we are not even a little afraid of comparison with other political forces, knowing in advance that almost all voters will vote for us.
We just have some things that force us to move slowly. First of all, we want to be sure that we are understood, because if people understand that by voting for us, they are voting for themselves, we will reach percentages never seen before in the history of elections. Secondly, our mechanism is immense, and has gears made up of people, who have been with us for a long time, who must make it work flawlessly.
We are like a new car, which needs to be run in before starting a very long journey, with excellent results.
We have the intention to grow gradually but continuously, because for us, all the people who join us must be welcomed in the best possible way. Let us try to make everyone protagonists, helping each of our future voters to give their maximum performance, for the good of all.
We already know that there will be many attempts to stop us, in all possible ways, but we are prepared to face and overcome any obstacle. They will try, as they have tried before, to slow us down, with various means, loyal and disloyal. Of the tens of thousands of people who follow us on the various social networks, where we are very little present, only a few dozen, receive our updates, and many search engines place us in unfavorable positions. Many will tell us: of course, don't invest anything in advertising. That's right, we invest almost nothing in advertising, we prefer to invest in people, and in the best and most modern technologies, investing almost a third of our revenue in security systems.
A final aspect of our "slowness" concerns the various types of users, who, based on precise rules, start from initial users and reach super administrators, with many roles of growing importance and ever greater responsibility in between. We have talked about it, and will talk about it, in various articles.
Returning to the car example, during the running-in period, any of us would check the skills and competences before letting someone get into it, and before allowing them to drive it. In DirectDemocracyS, there are phases, as well as geographical, also of user type, which will allow us to obtain excellent results, with order, and safety.
But let's also say that DirectDemocracyS is like a child, just conceived, but who will soon be born. You wouldn't entrust your "creature" to anyone just to have free time for yourself. Likewise, we prefer to move slowly but decisively, to make sure we never behave like other traditional political forces. For us, there are no other political forces, compatible with our rules and our methodology, and we do not criticize them for fun, but because they are all part of an oligarchic party system, which gives almost no power to the people, and therefore, there is nothing democratic about it.
If a voter has to choose between the authentic democracy of DirectDemocracyS and the complete control of the old politics, which does not decide for the good of the people, but decides in place of who should decide, who do you think will win the elections?
The only ones who will not vote for us are those who, for convenience (due to little desire to get involved directly), or, due to an inability to understand our rules, prefer that others decide in their place, for their present, and for their future.
DirectDemocracyS makes everyone protagonists and masters of their own destiny.