Details

Written by:

Webportal

Category: Uncategorised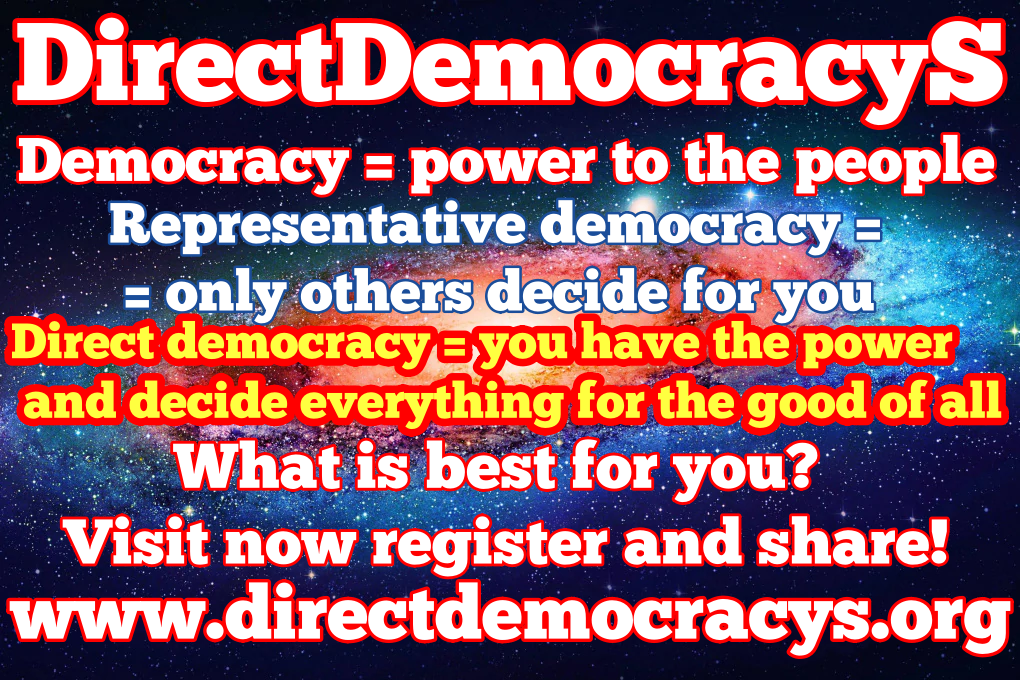 Welcome to the DirectDemocracyS website.
The first international political organization was born, which will put into practice the only authentic democracy, and the total freedom of the voters, to always decide, before during, and for the first time in the world even after the elections, all the laws, and the activities of their political representatives.
The population will be masters, and the politicians will serve the interests of the people, because before doing, or deciding, anything, they will ask for a binding opinion, to those who gave them the power of representation, that is, their voters.
Voters will always choose well, because they will be informed, in a complete, independent, competent, and honest way, of all the various decisions to be made, and of the consequences of each decision. With the informed population, we can never go wrong. There is much more information and innovations, in our and hopefully yours, new policy.
If you have any questions, advice, proposals or even constructive criticism, do not hesitate to contact us.
V
isit our Blog on the website
choose the Category, in your preferred language, there are various posts, you can click on the title of each article to read its content, or further down on "Continue reading".
After you get informed, you can join us, and start changing and improving the world, together with all of us.
If you like it, and you have understood the enormous potential of our political organization, help us to make it known to as many people as possible.
Caution. To choose your language, to see all parts translated into English, in over 100 languages, just click on the word "English", at the bottom next to our logo, and choose your preferred language by clicking on it in the drop-down menu.
We recommend that you read the following articles, even several times.
And the 3 very detailed articles on our motivations.
And lots of other information, news, and rules.